Hey sorry for the lack of anything that proves my existence, everything I have been drawing has been very stupid looking, albeit most things in my gallery can qualify for that description. Most things now are either NDA (I'd rather not get sued, I am very poor. I cannot really afford this. So hungry.) and naked people.
...My...horrific interpretation of naked people....
Which I'll post up...someday.....soonish....
Anyways here are some cool anatomy tools I dug up and have all put on my wishlist.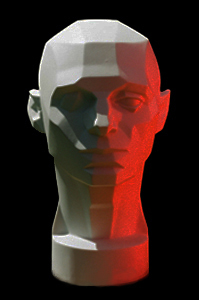 You can get the Asaro head from here-
http://www.planesofthehead.com/
And they are $98 USD.
Digitally calibrated from an actual human Skull.
Jaw articulates with accurate, natural movement.
Exact reproduction of every detail from a real-life specimen.
Sperical magnet allows for full skull rotation.
Jaw and Skull easily remove from stand and each other and snap back together.
Snaps together with other skulls and head stands.
http://www.anatomytools.com/
For $68.
Which has more awesome stuff like this on their site.
Now there are some really poseable figures out there but so far the ones that catch my eye are-
The Takara GenX core figure.
Takara has the Cool Girl figures as well-
Micromans!
Then there's this guy off of sideshow collectibles.
These are really cool, someone made his own sculpture.
S.F.B.T T 1's are sort of cool in an animu cyborg sense.
Although the bicep actually bulking up when the arm is flexed is really cool.
But that is not how I remember a human torso looking like at all.
And of course the famous Spiderman 18 inch with 67 points of articulation.
Also here's a photobucket I upload Concept work I find once in awhile-
http://s733.photobucket.com/home/tapedupsoap/
And here is something for people who want to do quick sketches-
http://www.pixelovely.com/tools/gesture.html
Oh yes I forgot a poseable dragon. He is from Monster Hunter his name is Rathalos, he is about in the $100-200 range.